Ace your next 
Zoom presentation
Job interview
Impromptu speech
Investor pitch
Corporate presentation
Sales call
Zoom presentation
Improve your communication skills with personalized and private feedback from our AI speech coach - for free
Trusted by employees at the world's best companies
"Yoodli is like having your um counter, grammarian and general evaluator whenever you speak"
Alicia Curtis
Toastmasters Ambassador
"Yoodli is the reason I won my division speech contest. I was able to measure my pacing to sound more natural"
Diane Windingland
Distinguished Toastmaster
"I can finally see data about my speaking style and track progress. Like Strava and Garmin but for speaking"
Marc B.
CEO, Supra PM Community
"I finally feel more confident when presenting to executives - I don't look silly anymore. Thank you Yoodli"
How Yoodli Works
Record
👯‍♀️ You've got options
Record your entire Zoom call with Team Yoodli
Record just yourself on online calls with Private Yoodli
Upload or record on app.yoodli.ai
Review
👀 Take a closer look
Watch your recording. Let the AI Speech Coach show you notable moments.
Check out your AI-generated analytics. How fast were you talking? Did you use any filler words? Use your numbers to get better!
Share with a friend with a friend
Repeat
💪 It's how we improve!
Connect your calendar to get Yoodli to auto-join your calls
Pick an analytic to improve on and try to beat yourself
Celebrate your wins and keep practicing with Games or Record a Speech
Personalized coaching
Get personalized and private analytics on your visual, verbal, and vocal delivery. Um no more filler words, you know what I mean?
Impromptu Speaking
Practice fun 30 second drills to improve your impromptu speaking and manage your fear of public speaking
Built by experts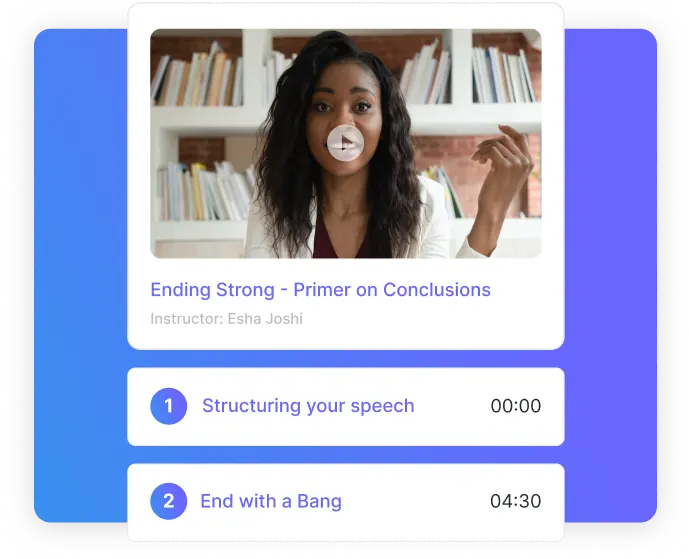 Personalized speech coaching and public speaking classes from Toastmasters winners, TEDx coaches and other experts
Use Yoodli whenever you speak